Away From A Manger: A Christmas Whodunit
Redemption House Life Center Presents:
"Away from A Manger: A Christmas Whodunit?"
Characters of a church Christmas pageant are thrown into investigative turmoil as their "baby Jesus"
nursery doll comes up missing after an untimely power outage. Accusations soar and secrets are
revealed as the cast sets out to find the true & "leading roll"; before the curtain opens!
Come for the show, stay for some Christmas shopping and music at our holiday bazaar!
General Admission Tickets:
$30 = Dinner & Show
$15 Show Only
Special Children's Pricing:
$20 = Dinner & Show (ages 7+)
$10 Show Only (ages 7+)
Children 6 and under are FREE
Dinner Menu:
Mixed Garden Salad
Tomato Bisque Soup
Choice of:
Spaghetti with Meatballs
or
Spaghetti with red sauce (meatless)
Garlic Bread
Itinerary:
Assorted Desserts
Water/Tea/Lemonade
5 pm – Doors open/Registration
5:45 pm – Dinner is Served in Fellowship Hall
6:30 – Sanctuary Doors Open for General Seating
7 pm – "Away From A Manger"
w/ intermission showcase from the dance team
8 pm – Holiday Bazaar/ Vendor tables in the Fellowship Hall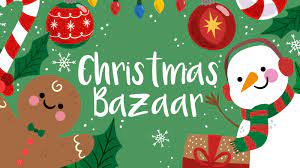 ****VENDORS WANTED****
Are you interested in being a part of our Christmas Bazaar?
We have limited space on a first-come, first-served basis!
Vendor Fee: $20 (includes one 60" table and chairs- linens not provided)
Please reach out to Samantha Harris (dynamicduo0408@gmail.com)
For vendor application and approval PRIOR to registering.